CIGRE Session
10 November, 2022 @ 08:00

-

20:00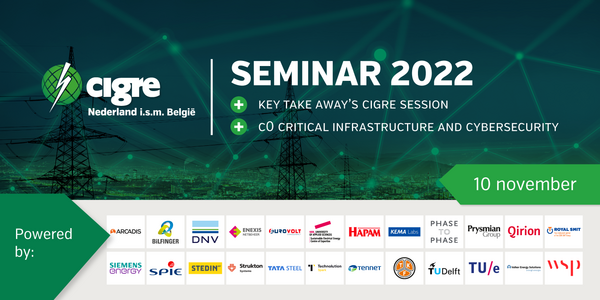 CIGRE Netherlands & Belgium, an international knowledge platform for electrical energy systems is organizing their yearly seminar to exchange knowledge on energy distribution. Students are free to attent!
Program:
Het bouwen aan een intelligente, duurzame, betrouwbaar, betaalbare én inclusieve energie infrastructuur stelt netbedrijven en de industriële clusters van Nederland voor een complexe uitdaging. Tijdens het CIGRE Seminar op 10 november verkennen we de vraag hoe wij als elektriciteitssector samen met de industrie eigenaarschap kunnen nemen in deze transitie vol onzekerheden en afhankelijkheden.
Onder begeleiding van dagvoorzitter Ben Voorhorst zoeken we naar inspirerende visies en voorbeelden hoe wij als elektriciteitssector sámen met de industrie – tijdens de verbouwing – het licht brandend en processen gaande houden. Dit doen we samen met:
Alan Croes, Head Energy System Planning – System Outlook TenneT
Ivo van Dam, CTO PowerField
Piet Knol, Consultant High Voltage Tata Steel Europe
Rob Kreiter, Directeur TKI Energie en Industrie
Ruud Nijs, CEO GIGA Storage
Ingmar Ploemen, GM Electrification Technology Shell
Daan Schalck, CEO North Sea Port
Naast het plenaire programma volgen twee parallelle sessies:
De CIGRE Sessions 2022 Key Take Away's, waarbij de Nederlandse en Belgische studiecomités samen de hoogtepunten en meest opvallende ontwikkelingen presenteren vanuit de sessions 2022 in Parijs. De presentaties zijn in het Nederlands.
The C0 critical infrastructure and cybersecurtiy session which will be held in English. Traditional energy technologies are becoming progressively more connected to modern, digital technologies and networks. This digitalization creates significant risks as an increased exposure to cybersecurity attacks and incidents potentially jeopardize the security of energy supply. So, we need to further strengthen our energy system resilience to be more prepared for the future.
Wanneer en waar
Op donderdag 10 november 2022 tussen 10:00 – 18:30 uur in de Midden Nederland Hallen in Barneveld.
Also, please send the board of WALDUR a message (or sign up below) if you are going to attent. If there are multiple students interested we can arrange transport.