CIGRE Teamday
28 June @ 12:30

-

17:30

10 Euro – 30 Euro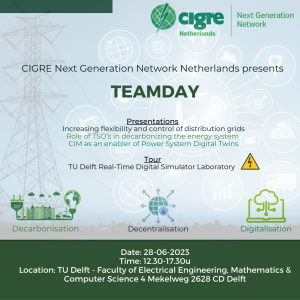 CIGRE is a global community committed to the collaborative development and sharing of end to end power system expertise. The Cigre Next Generation Network (CIGRE NGN, or Young CIGRE) represents your gateway into the multifaceted world of CIGRE. You'll find the connections, knowledge, and confidence you need to advance your career, with the opportunity to learn from experts and discuss real-world challenges with industry leaders.
CIGRE NGN Netherlands is organizing the TeamDay event, which focusses on the 3D's (Decarbonisation, Decentralisation and Digitalisation), and will be held at the Delft University of Technology! The agenda of the event will be as follows:
12:45-13:15: Welcome, with coffee or tea.
13:15-14:00: Presentation 1: Increasing flexibility and control of distribution grids by our own Tiago Castelo de Oliveira (TU/e).
14:00-14:45: Presentation 2: Role of TSO's in decarbonizing the energy system by Akshaya Prabakar (TenneT TSO).
14:45-15:30: Presentation 3: CIM as an enabler of Power System Digital Twins by Harish Krishnappa (DNV).
15:30-16:30: Tour: Real-Time Digital Simulator Laboratory.
16:30-18:00: Networking drink and dinner: TU Delft Campus (Cafe Labs or Hangout).
For more information, please go to: LinkedIn TeamDay event. The costs for students will be 10 euro, whereas for PhD students it wil be 30 euro. You will have to travel by public transport yourself. As a student, you can declare your travel expenses (more info will be given at the event on how to do that).
It is preferred that you are a member of Young CIGRE. For students, that is fully free! You can become member of Young CIGRE via https://www.cigre.nl/becoming-a-young-cigre-member/.
If you have any questions, please sent a mail to secretary@waldur.nl.