Lunchlecture Deme Offshore Wind Farm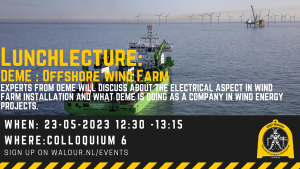 It is not possible to subscribe for this event anymore!
Deme group, where sustainability meets innovation. Deme is a global leader in sustainable marine and environmental solutions, specializing in dredging, land reclamation, and offshore wind farm construction.
During the lunchlecture, Deme Offshore will discuss the electrical aspects of wind farms. This also includes the installation of the wind farms and what Deme is doing as a company in wind energy projects
Lunch will be provided!